November 2001
Horseshoe Cove
The Coast Guard has barricaded the Golden Gate Station. Making the boat ramp unreachable by land. We were probably going to lose this ramp anyway because of US Park Service's restoration plans.
We followed the signs for the Discovery Musuem and drove through their parking lot to the Yacht Club in the Cove. Easy parking and the very friendly people at the Yacht Club took away my anxiety of possibly being denied access. They welcomed us.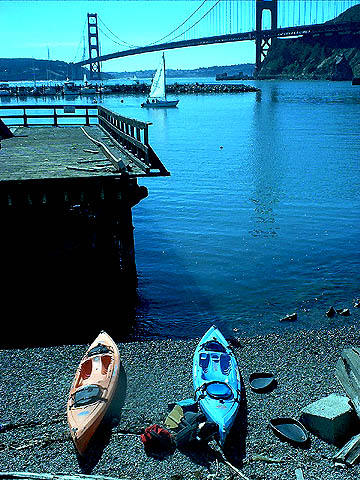 This put-in offers NW wind and tidal current protection which is lost once outside the breakwater and the pier. It is exposed to a North wind.
If you stay on the North side of the Golden Gate entrance you stay out of the shipping lanes but there is fishing boat traffic. The cliffs and hills give some protection from NW winds. The swell increases as you paddle out.
Offering great access to the Golden Gate Bridge. Pay attention to weather and sea conditions. Anytime the wind opposes the tidal current such as an onshore wind with an ebbing current-Beware. Know your limits . Sea kayakers have been swept out to sea here.
Disclaimer
These are put-ins that I have used, and maybe totally different when you are there, in other words, paddle at your own risk.
Always check weather and ocean conditions before you paddle!
Site Map
copyright Storm Steiger 2000

sea kayakers
November 2001