May 2001
Put in of the Month
Ferry Point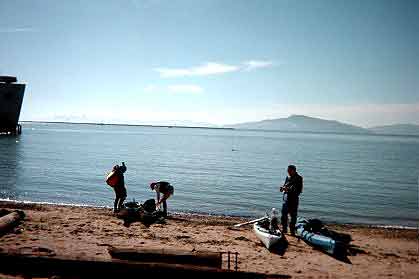 This pocket beach used to be covered in debris that was cleaned up and restored when this park was created about 2 years ago.
It offers excellent access to Angel Island in the background. It's a good place to launch for a trip to Red Rock Island, weather and tides permitting. Also access to America's newest National Park-Rosie the Riverter National Park. Turn left past the Liberty ship, Red Oak and the national park is about 1 nautical mile. You can park here overnight on the street.
Just this month the developer of the Ford plant backed out on plans to develop the old assembly plant into condos. It's fun to kayak underneath it.
To get here take Canal Street exit off of I-580. Turn South or towards the bay and then take a right on Cutting Blvd. Turn left at next stop sign and drive thru the tunnel to Ferry Point Park about 2 statute miles past the tunnel.

Disclaimer
These are put-ins that I have used, and maybe totally different when you are there, in other words, paddle at your own risk.
Always check weather and ocean conditions before you paddle!
Site Map
copyright Storm Steiger 2000

sea kayakers have visited this page since it was created May 2001