March 2002
Van Damme State Park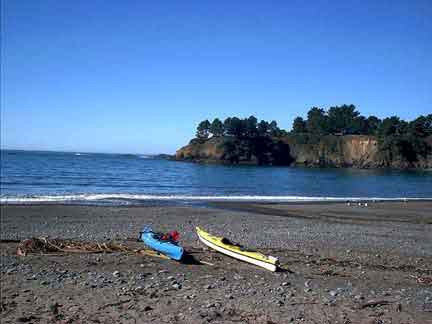 If you paddle towards the dark spot in the upper right of the picture, this sea cave goes completely through to the other side! You can paddle what's locally called the "inside slot". As you paddle North there is only 1 place where the swells can make it intact all the way to the inside. Lots of nice sea caves and a tidal waterfall with spectacular tide pools.
A great place to sea kayak. This put-in is protected. You can also camp in your self contained vehicle in the parking lot on the beach on a first come/no reservation taken basis.
For more info on this state park
Disclaimer
These are put-ins that I have used, and maybe totally different when you are there, in other words, paddle at your own risk.
Always check weather and ocean conditions before you paddle!
Site Map
copyright Storm Steiger 2001

sea kayakers