January 2003
Brand new Black Sand Beach
Kalapana, Big Island Hawaii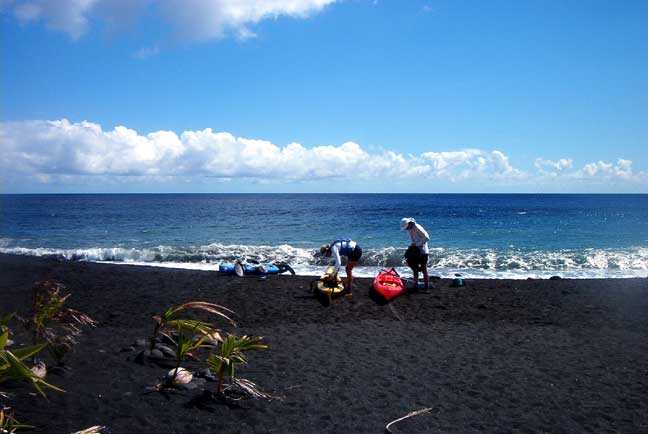 Check out the coconut trees just starting out!
A brand new beach has formed here. The lava has crumbled to sand and collected here enough to form a new beach. This put-in does require a long carry. Go to the end of the road to Kalapana. It's about a third of a mile and stay on the main path.
A great place to stay is right across the street about 1 mile away. The caretaker Kimo and his family are extremely nice.
Long windows between sets provide a easily timed launch. The lava flow into the sea is about 5 nautical miles to the West. This area is tradewind exposed so if the trades are up be advised-easy to go downwind and can be difficult to get back.
I look for trades under 15 knots for this paddle.
Most of the area is cliffs of lava rock inaccessible but there are a few pocket beaches East and West from here.The one to the West is a monk seal haul-out so don't land if there are seals on the sand. The one to the East, Hapuna Beach which you can drive to is a clothing optional beach where on a recent trip I got to swim with dolphins.
Disclaimer
These are put-ins that I have used, and maybe totally different when you are there, in other words, paddle at your own risk.
If you want to check weather and ocean conditions before you paddle!
Site Map
copyright Storm Steiger 2002
sea kayakers