Lake Powell Expedition
Lunar Eclipse
May 2003
We got a 52 foot Captain class houseboat from Bullfrog marina and loaded our kayaks and food and water for a week long adventure on Lake Powell. The lake level was at a record low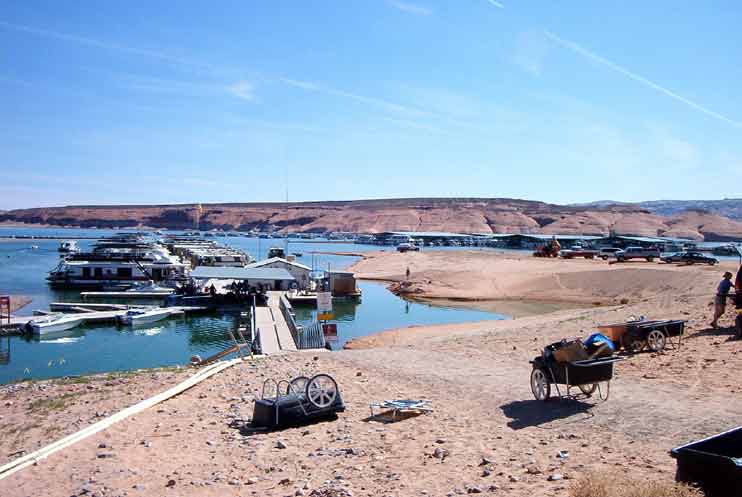 After loading the kayaks off we went to Halls Crossing Marina to pick up the Tibbetts family.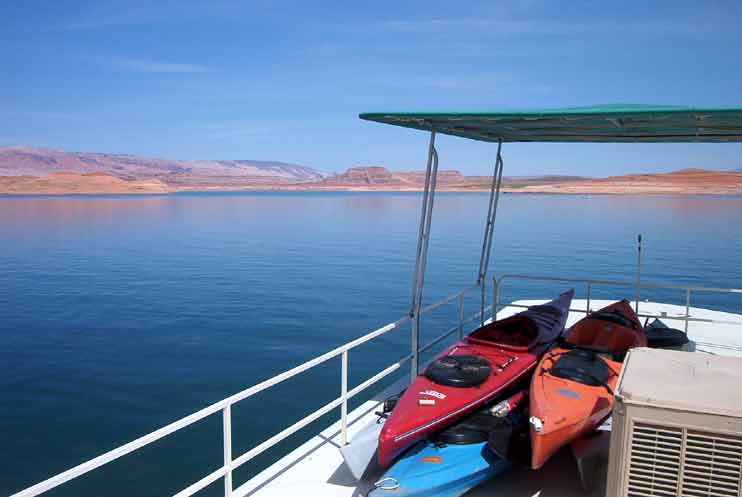 We made it over to Halls Crossing in about a half hour after we had been piloted out of the Bullfrog Marina. Paula realized we didn't have a dining table. So the pilot went and got us one.
We didn't dock the houseboat very well and soon found ourselves in an embarassing position almost blocking the boat ramp.They'll rent these things to just about anybody..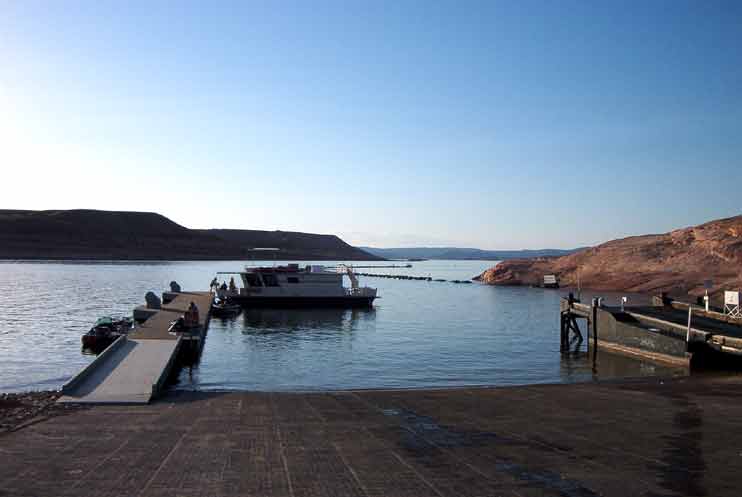 After gathering up the final 3 members of our expedition we headed up Halls Creek Bay. We found and kayaked a sink hole above the lake level.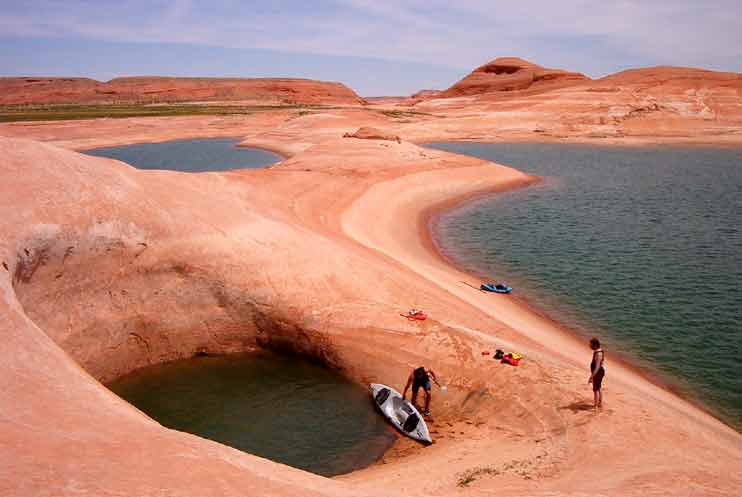 The next day we headed down to Annies Canyon where we found a great spot to anchor and then enjoyed a rooftop dining experience.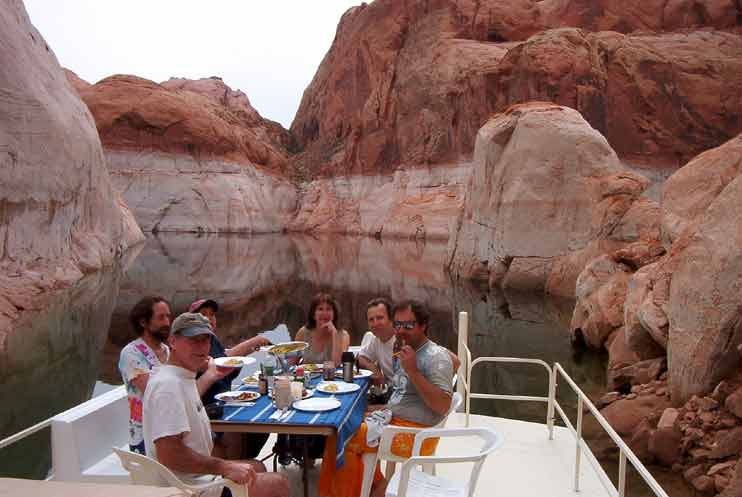 Each arm of Annies Canyon offered a scenic treat.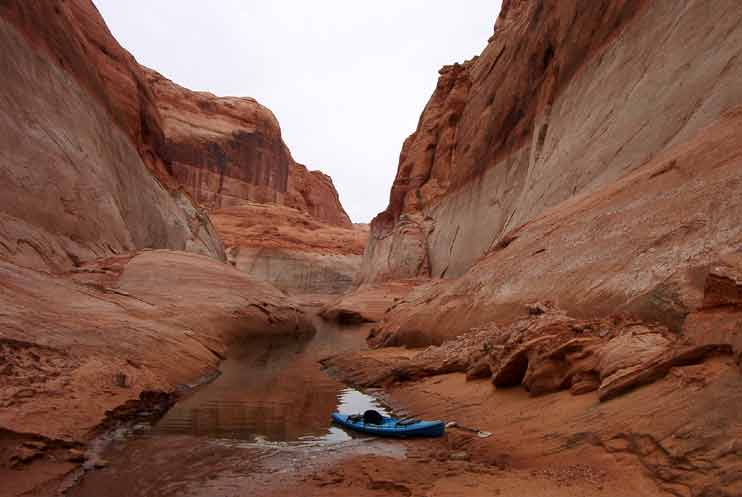 We headed West to the Escalante Arm of the lake. This was a great time of year to hit the lake as some spots were even green. The buoy was marked with the mileage number "81" from Glen Canyon Dam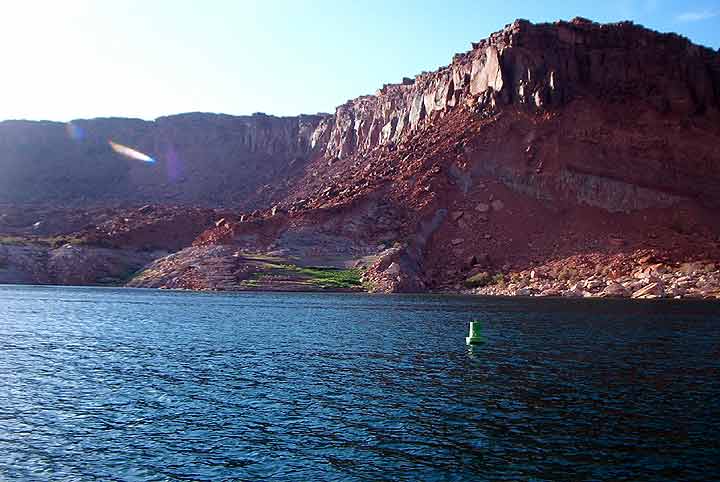 Our 3rd night spot at the start of the Escalante Arm offered spectacular paddling with unbelievable echoes nearby up Indian Creek Canyon.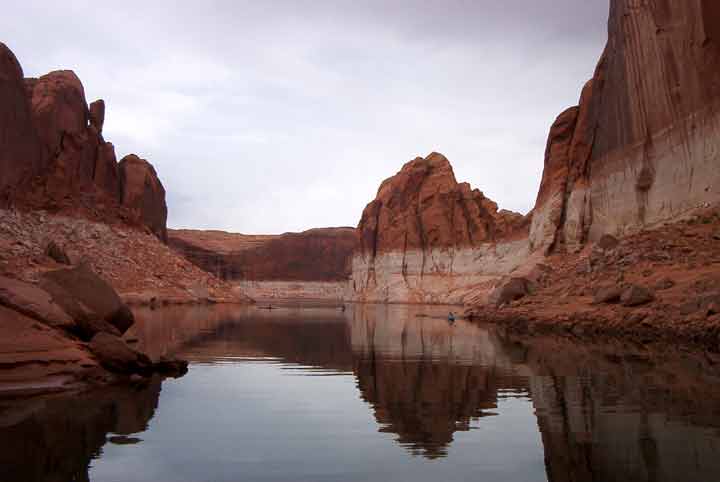 Up the Escalante River Arm we went past "Whale Rock" to 3 mile Ruins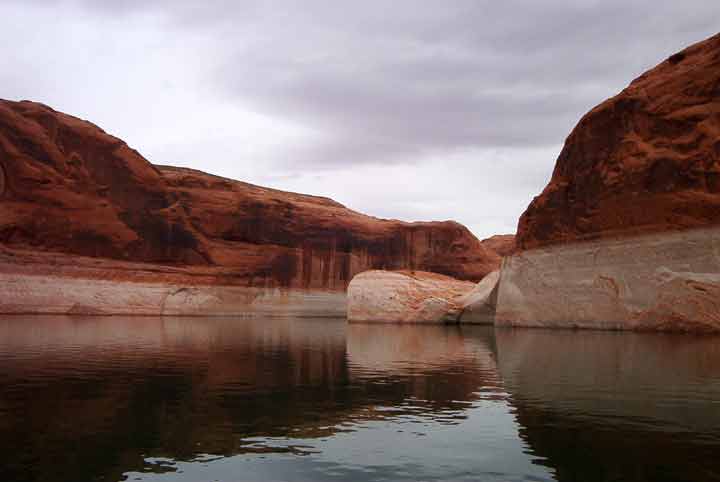 We reached the end of the Escalante Arm and anchored on a big island near Explorer Canyon which has some petrogryphs a few miles inland. Stay high and on your left as you hike in.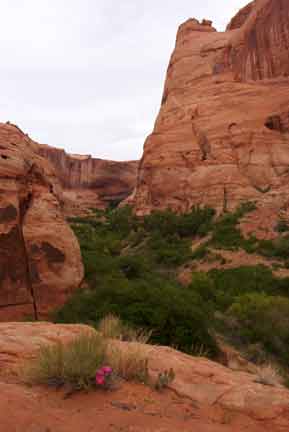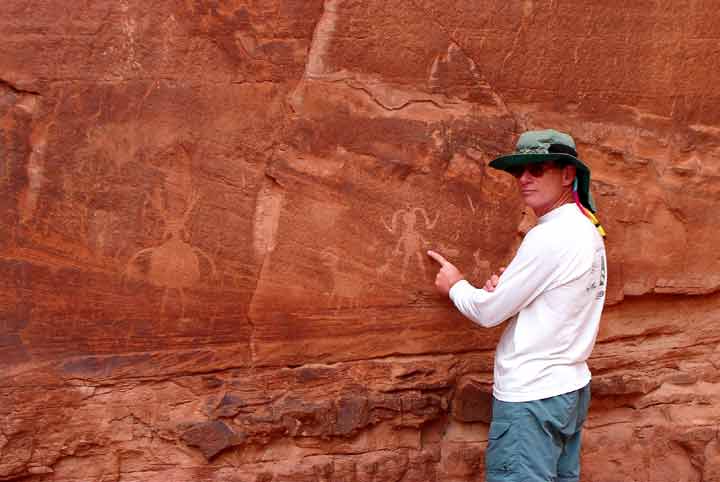 At the end of the box canyon which is quite lush there's a shallow pool just deep enough to get wet after a long hike.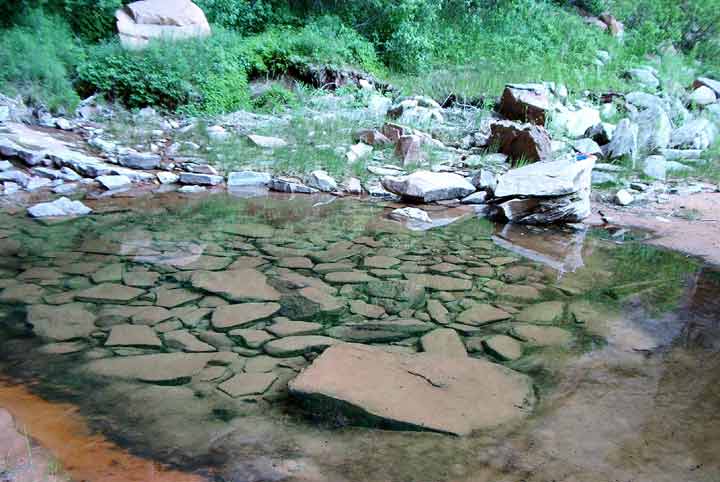 Hiking out of Explorer Canyon we came across a Natural Bridge.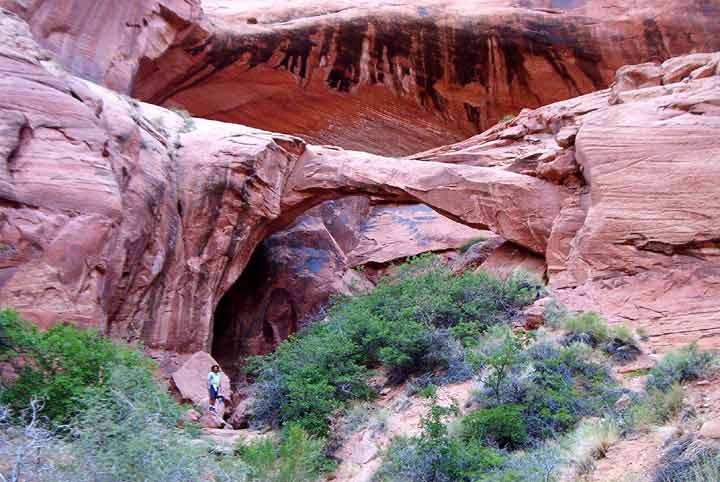 We looked everywhere for a slot canyon to paddle up and many times it looked like there would be one. We figured out we would've had a better chance of finding slots when the lake is full.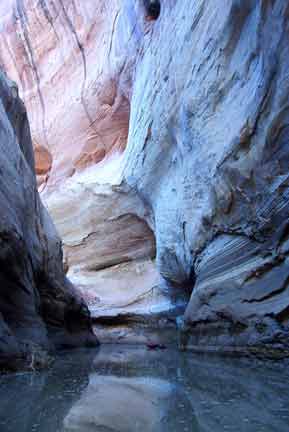 Soon it was Thursday nite and we motored out onto the Lake which was dead calm, the sky was clear and the air was balmy to check out the eclipse.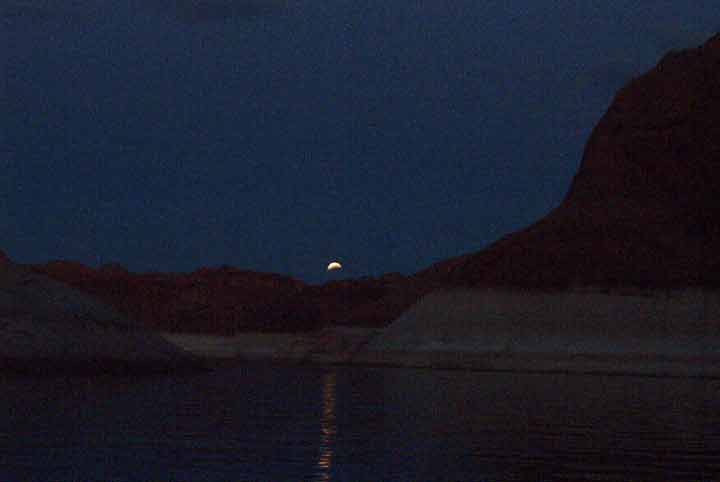 We got up the next morning and towed our kayaks to the other side of the lake but 2 kayaks flipped so this was the only time we tried it.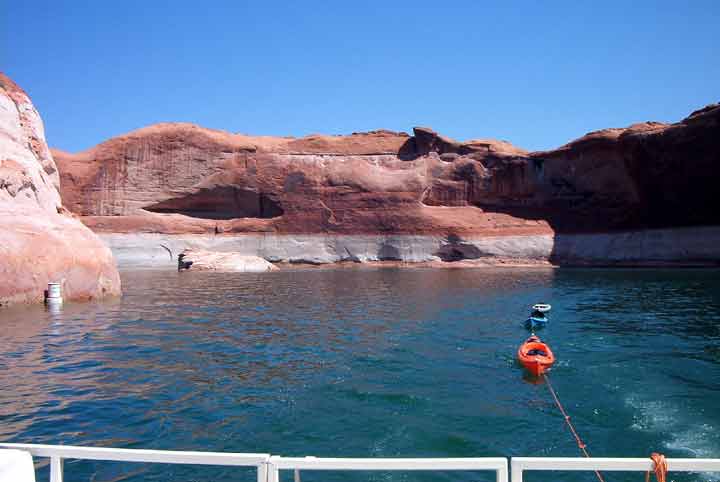 We continued up Davis gulch and came to Moqui Window. For reference Tim Green is the small stick figure at the bottom left of the Natural Window.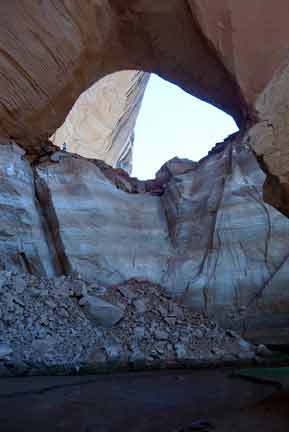 Next up was Clear Creek Canyon home to "Cathedral of the Desert" Many pools in this canyon had beautiful reflections off the overhanging rock.

The water color in this canyon was also spectacular.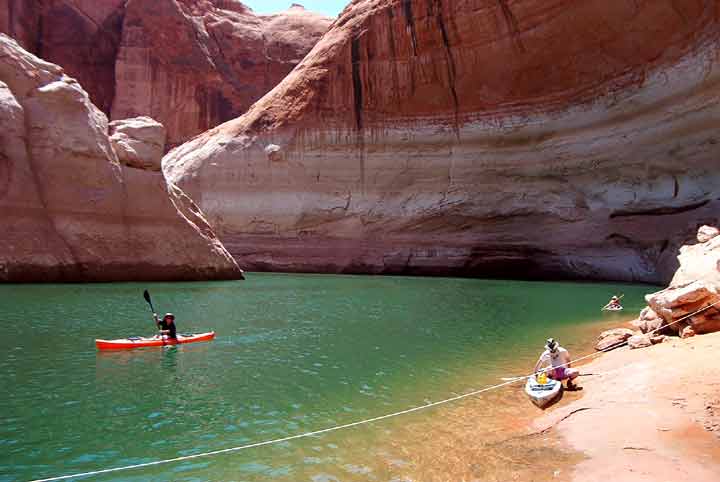 It was time to motor back. Our last day on the water was marred by an engine fire. Expertly brought under control by the quick action of the excellent crew.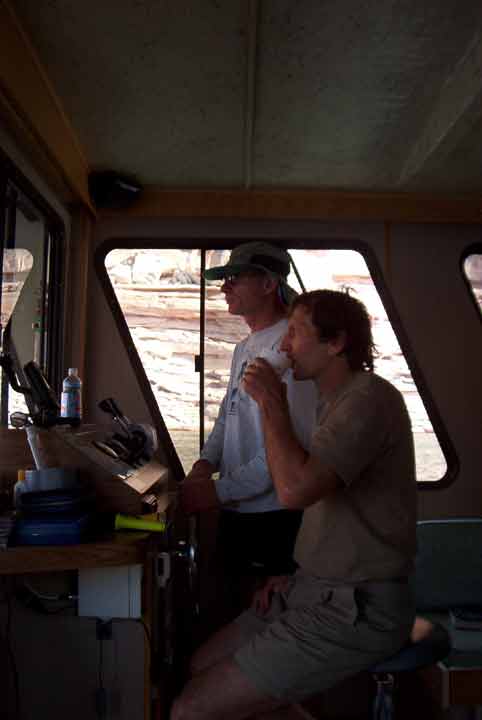 Many thanks to everyone for a fantastic trip!
See you on the next eclipse Lake Powell paddle the 1st week of Nov.2003.
Site Map