August 2001
Put in of the Month
Lake Faucherie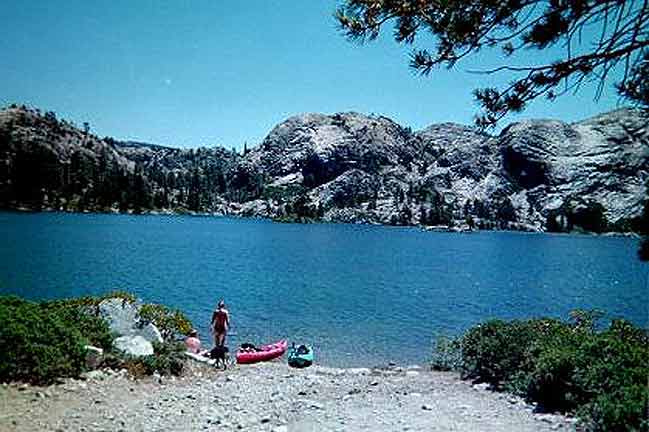 One of the prettiest lake in the Sierra Nevada. Fantastic lakeside campsites await you.
The cost is 12 miles of dirt road requiring a high clearance vehicle. The reward is a beautiful high mountain lake.
The sign marking the turn to Lake Faucherie is always missing just like Bolinas'. Look for the USFS summer homes just past Lake Bowman turn right here if you're coming from the West. Left if you're coming from the East.
For current info What are the bears doing?
Camping and Driving directions-
Faucherie Lake Group Camp
Camping: There is one large group camp for tents or motor homes up to 22 feet long. There is no piped water, but vault toilets, picnic tables and fire grills are provided. Pack out your garbage. Pets are permitted on leashes or otherwise controlled.
Fee: $30 fee per night.
For information: Call (530) 265-4538.
Location: From Sacramento, drive east on Interstate 80 past Emigrant Gap to Highway 20. Turn west on Highway 20 and drive to Bowman Road (County Road 18). Turn right and drive about 12 miles (much of the road is quite rough) to Bowman Lake and continue one mile to a Y. Bear right at the Y and drive about three miles to the campground at the end of the road.
Trip Note: Faucherie Lake is the kind of place that most people believe can only be reached by long, difficult hikes with a backpack. Guess again: Here it is, set in Sierra granite, 6,100 feet in elevation, quiet and pristine, a classic alpine lake. It is ideal for car-top boating and has decent fishing for both rainbow and brown trout. This is a group camp set on the lake's northern shore, a prime spot, with the lake's outlet creek nearby. Open June through October. Reserve by phoning (800) 280-CAMP ($15 reservation fee).
This lake is so beautiful that some of my paddle partners don't want it on here. Sheltered from a South wind, exposed to N /NW wind. Great swimming and pray they never pave the road!


Disclaimer
These are put-ins that I have used, and maybe totally different when you are there, in other words, paddle at your own risk.
If you want to check weather and ocean conditions before you paddle!
Site Map
copyright Storm Steiger 2000